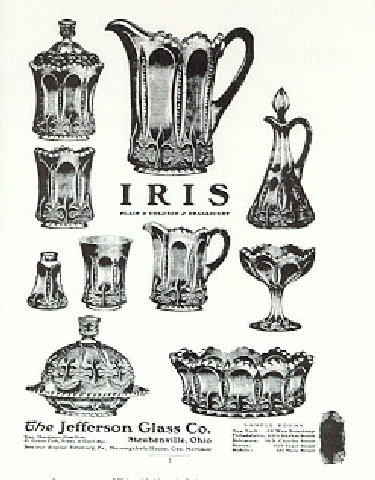 Original Advertisement for Jefferson "Iris"
Iris with Meander is one of the favorite patterns of discriminating Vaseline Glass collectors. Iris with Meander was named IRIS by Jefferson Glass Co.. Fleur-de-lis Scrolled was a name that was coined later by glass authors (before they knew that Jefferson had made it, as no early catalogs had been referenced). It now goes by Iris with Meander.

There were 16 pieces made in this pattern. The pieces were the cruet, pitcher, tumbler, spooner, creamer, sugar, butter, jelly on pedestal, 4" berry bowl, 4.5" berry bowl, master berry bowl, plate (made from 4.5" berry bowl and flattened out, soup bowl (also made from 4.5" berry bowl and flattened out, toothpick holder, swung vase (made from the spooner), and the salt and pepper shakers. There is not much difference between the plate and soup bowl, other than one is more flattened out. Some references refer to the soup bowl as a pickle dish, as GLASS soup bowls were not in vogue during this time. Soup was primarily eaten out of metal or pottery dishes, as the hot temperature of food such as soup tended to be extreme for glass dishes of the day and they broke.