Chocolate Glass is Hot!
Written by James S. Measell
Courtesy of Glass Collectors Digest
November 25, 2000, marked the centennial of the initial production of Chocolate glass at the Indiana Tumbler and Goblet plant in Greentown, Indiana. Chocolate glass has been popular with glass collectors for many years.
Chocolate glass was the brainchild of Jacob Rosenthal (1855-1933), a knowledgeable and experienced glassmaker who had learned the skills of his trade in Pittsburgh and Ohio Valley-area plants during the 1870s and 1880s before he advanced into glass factory management during the 1890s.
Rosenthal first came to Greentown in September, 1900, after a short stint at the Ohio Flint Glass Works of the National Glass Company in Lancaster, Ohio. Incidentally, an Englishman named Moore had patented an opaque, Fawn-colored glass in the late 1880s, but there is not indication that Rosenthal knew anything of this.
The national a conglomerate of 19 plants which was formed in mid 1899, also controlled the Greentown factory, which had begun operations in mid-1894. Like many other new industries in east central Indiana, the Greentown plant was fueled by natural gas which had been discovered in the early 1890s.
The first pattern made in Chocolate glass was Greentown's No. 400, which is now called Leaf Bracket by collectors. Correspondence between Rosenthal and glass researchers in the early 1930s reveals that the very first piece of Chocolate glass was an 11-inch celery tray in the No. 400 line. Other items in the No. 400 line include the customary berry set, four-piece table set (covered butter, creamer, spooner, and covered sugar); as well as a plate, various sizes of relish dishes, a cruet, salt/pepper shakers and a toothpick holder.
Chocolate glass varies considerably in color, and it ranges from a light coffee-with-cream hue to a deep rich brown. Items which have a pronounced red-brown tone on the edges are often call "red agate" by collectors today, but there is no evidence that these had any original name other than "Chocolate." Variegated streaks of color are sometimes present in Chocolate glass items, and the name "caramel slag" was in vogue among collectors for several decades beginning about 1930. Dr. Ruth Herrick's Greentown Glass (1959) started a successful effort to restore the original "Chocolate glass" appellation.
Virtually all Chocolate glass was made as pressed ware, and Greentown soon developed another pattern line, No 375 (now called Cactus), to showcase the new color. The No 375 line included more than 30 different articles, all of which were intended for table service. Both No. 375 and No. 400 were sold to the public at the Pan-American Exposition in Buffalo, New York, between May and September, 1901. Items can be found engraved with the lucky owner's name along with the phrase "Pan-American 1901".
A printed menu for the Christmas 1901 dinner at the Union Hotel in Greentown has this to say in its description of the town: "Many industries here flourish . ... The glass factory, one of the National Glass Company's plants, manufactures the rare Chocolate glassware that is rapidly making Greentown famous." Rosenthal, who lived at this hotel during his time at Greentown, must have been justifiably proud of the success of his Chocolate glass.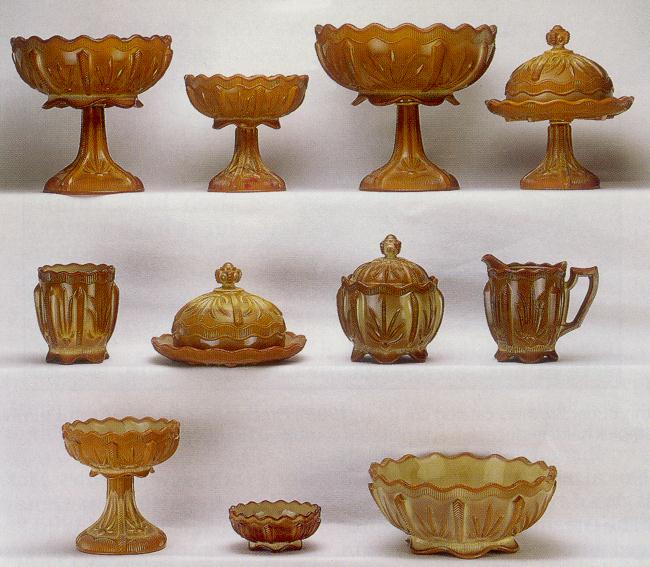 Chocolate glass No. 375 Cactus pattern items: (top row) 8"d. compote,

6"d. compote,

9"d. compote and covered cheese dish; (middle row) spooner, covered butter dish, covered

sugar bowl and creamer; (bottom row) 5"d. compote, 4"d. sauce dish and 9"d berry bowl.

The glass tableware industry trade publications also took notice of Chocolate glass and its impact upon the national scene. China, Glass and Lamps (Dec. 28, 1901) called it a "glass color winner" and noted that it "has proven to be just the sort of a novel color for glass ware that the trade was looking for and it is proving the warmest seller of the season." A few weeks later, this same journal reported that four railway carloads of Chocolate glass had been shipped from Greentown (China, Glass and Lamps, Feb 15, 1902).

Several large wholesale houses, including Butler Brothers and G. Sommer and Co., depicted Chocolate glass in their catalogs. These catalogs have become particularly valuable documents for those who research glass history today, for much of the glass factory's normal office paperwork of orders and bills has long since vanished.

In addition to the No. 375 and No. 400 lines, which were developed especially for Chocolate glass, the Greentown enterprise also used some moulds from earlier pattern lines for the new color. Among these were the following: No. 29 (Shuttle); No. 200 Sustrian; Dewey; and No. 102 (Teardrop and Tassel). Rosenthal was not happy when these moulds were used for Chocolate, because the heat-sensitive color would not always develop as he envisioned.

Greentown's Chocolate glass was made from a formula known only to Jacob Rosenthal. The glass batch needed a source of carbon, and some of the men who worked with Rosenthal during 1900-1903 later revealed that oats or vine stalks were sometimes used to provide the chemical reducing agent so vital to this glass.


The Greentown plant also produced numerous novelty items in Chocolate glass. These range from covered animal dishes and beer steins to water pitchers and toothpick holders. Some of these novelties are among the most sought-after (and priciest!) items of Greentown glass.

In March, 1902, Rosenthal sold his formula for Chocolate glass to the National Glass Company. At least two National plants - the Royal Glass Works in Marietta, Ohio, and the McKee & Brothers Works in Jeannette, Pa. - made Chocolate glass in 1902-03.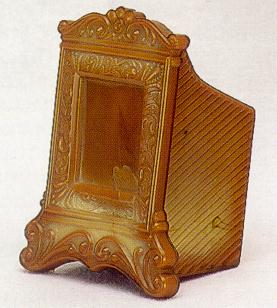 The Chocolate glass Picture Frame toothpick or match holder is a very scarce
item (value $1000). Most of these have "R & M" on the underside.
The Royal was responsible for items in No. 54 (Melrose), No. 100 (Shield with Daisy and Button), No. 143 (Fleur-de-lis), and No. 346 (File) along with a few novelties. McKee made such patterns as Geneva, Touching Squares, and Wild Rose with Bowknot as well as dresser items and Wild Rose with Festoon lamps. McKee's covered animal dishes in Chocolate glass (cow, duck, swan, and two-headed chick) are extraordinarily scarce and seldom come on the market. When they do, prices in excess of $ 2200 are the rule and some would fetch twice that at an auction were knowledgeable and determined collectors are present.
Production of Chocolate glass by the National Glass Co. probably ceased in 1903-04. The Greentown and Marietta plants were destroyed by fire in 1903, and the National firm was in dire financial straits by mid-1904. Rosenthal left the National's employ in June, 1903, after the Greentown factory burned down.
Rosenthal joined the Fenton Art Glass Co. in the Fall of 1906, and Chocolate is among the colors listed on a Fenton letterhead from mis-1907. Items from Fenton's very first pattern line, No. 8 (Cattail and Waterlily), were made in Chocolate glass as well as in several opalescent colors. Inventory records show Chocolate glass Orange Tree hatpin holders on hand at Fenton in Dec. 1913. The Chocolate glass made at Fenton did not approach the commercial success the ware had enjoyed in 1900-1903 when Rosenthal first created it at Greentown.
Chocolate glass was revived in the 1960s, when it was first reproduced by the St. Clair Glass Co. of Elwood, Indiana. Some Chocolate items have also been made by the large Westmoreland plant as well as the Degenhart, Boyd, Mosser and Summit firms. Fenton Art Glass featured Chocolate as one of its special colors for the Bicentennial in 1976.
The best place to see Rosenthal's Chocolate glass today is the Greentown Glass Museum in Greentown, Indiana. The annual Greentown Glass Festival (second weekend in June) brings many visitors and Greentown glass collectors to this small Indiana town where Chocolate glass was born 100 years ago.
Dr. James S. Measell is Associate Historian at the Fenton Art Glass Company in Williamstown, WV, and he also serves as Director of Glass History Research for The Glass Press. He is currently working with the National Greentown Glass Association on several projects which will result in publications by The Glass Press.